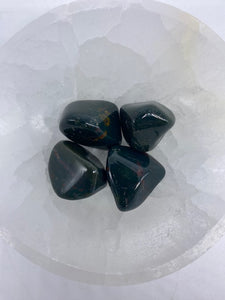 Bloodstone Tumblestone
Bloodstone Tumblestone
Size:  Large
The Key Words to describe Bloodstone are: Strength; Courage; Purification; Vitality
Bloodstone's Element is Earth
It works on the Root Chakra (1st)
COLOUR: Red-green
APPEARANCE: Green quartz flicked with red or yellow jasper, often medium tumbled stone.
ATTRIBUTES: As its name suggests, Bloodstone is an excellent blood cleanser. And a powerful healer. It is believed to have mystical and magical properties, controlling the weather and directing spiritual energies. It can revitalise the mind if you are mentally exhausted.
SPIRITUAL MEANING:  Bloodstone instils courage and assists you in taking the right action. It is excellent for those undergoing change in their lives because of spiritual awakening and it can help you maintain faith in the Divine and to trust that that you will overcome loneliness and find inner strength.
EMOTIONAL MEANING:  Bloodstone can keep you from becoming discouraged when you encounter obstacles on your path. It assists with feeling capable and self-sufficient and strengthens your sense of connection to the Divine.
HEALING: Bloodstone stimulates the flow of lymph and metabolic processes, revitalises and re-energises. It purifies blood, detoxifies the liver, intestines, kidneys, spleen and bladder. Bloodstone benefits blood-rich organs and aids circulation. It is helpful in the cases of leukaemia as it supports the blood and removes toxins
POSITION: As appropriate. Wear continually for good health. Place in a bowl of water beside the bed to ensure peaceful sleep. As an immune stimulator, tape over the thymus.
PLEASE NOTE – Price for this item is per single stone approx 25 x 30