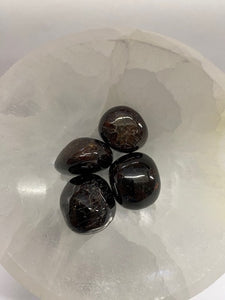 Garnet - Very Dark Red
The Key Words to describe Garnet are Emotional Healing; Self-Worth; Walking the Spiritual Path
Garnet's Element is Earth
It works on the Root Chakra (1st), the Heart Chakra (4th) and the Crown Chakra (7th)
COLOUR: Red, pink, green, orange, yellow, brown, black
APPEARANCE: Transparent or translucent crystal, often small and faceted or larger opaque piece.
ATTRIBUTES: Garnet inspires love and devotion. It balances the sex drive and alleviates emotional disharmony. It is a useful crystal to have in a crisis. It strengthens and activates the survival instinct, bringing courage and hope. Garnet helps you to let go of useless or old and obsolete ideas. It bestows self-confidence.
SPIRITUAL MEANING:  Garnet allows you to open to the channel of Divine Love that constantly streams from the Source. It can assist with being open to sharing love, kindness and compassion. Garnet helps you to recall and fulfil your life's purpose by taking appropriate steps on your chosen path.
EMOTIONAL MEANING:  Garnet is wonderful for soothing and healing the emotional body. It encourages self-respect and reminds you of your abilities and gifts. Garnet helps you to recover your sense of self-worth and helps you to feel the Love of the Divine.
HEALING: Garnet regenerates the body. It stimulates the metabolism. Garnet treats spinal and cellular disorders, purifies and re-energises the blood, heart and lungs and regenerates DNA. It assists assimilation of minerals and vitamins.
POSITION: Earlobes, finger or over heart. Wear in contact with the skin. Place on the skin as appropriate in healing. Past  life recall: place on the third eye.
PLEASE NOTE – Price for this item is per single stone